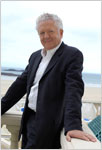 Welcome to the world of a new generation of Thalasso and Spa developed by the Thermes Marins de Saint Malo.
Throughout this site you will discover our expertise in developing high-end projects, tailored to feature the latest innovations in treatments, cosmetics and techniques. Please refer to our list of our references to appreciate the confidence we have gained from our partners in France and abroad.
We are at your service to help and advise you and we will take pleasure in responding to any requests that emerge from consulting our site.
Sincerely,
Serge Raulic,
Chairman and Chief Executive, THERMES MARINS DE SAINT MALO.