Definition
This is a luxurious spa pool designed for relaxation, well-being and fitness:
An aquatic labyrinth incorporating specific water massage zones: jet bath, currents and counter-currents, bubble baths, counter-current walking zones, showers which treat different body parts by different intensity and positioning of shower jets.
Concept
The Aquatonic® Pool is a THERMES MARINS DE SAINT MALO invention (patented design) which resides in the best spas in the world, the name is a registered trademark in many countries.
The first course was created in 1987 in Saint-Malo (at Thermes Marins de Saint Malo Thalassotherapy Center).
Water Zones
The course is composed of several pools of 28°C to 34°C that include jet baths, air jets, shower massage loungers / chairs, etc. – which massage different parts of the body by different shower intensity and positioning.
The intensity of the jets and the different water temperatures are designed to provide beneficial effects on the body. Aquatonic ® has a beneficial effect on muscle tone and blood circulation.
It activates the metabolism and provides deep relaxation of body and mind.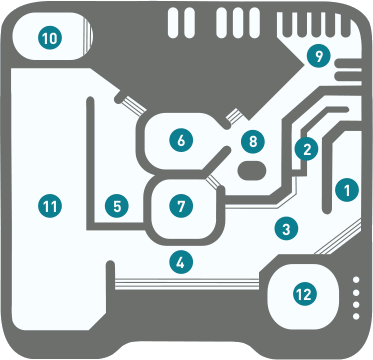 Leg geysers : 31°
Counter-current walk-through : 31°
Water seats : 31°
Standing jets : 31°
Swan-neck showers : 31°
Bubble Bath : 34°
Hydro-jet pool : 34°
Aquatonic column
Water loungers : 34°
Pool : 28°
Swimming Pool : 31°
Steam bath
Water
The Aquatonic ® works either with fresh water (urban day spas) or seawater (thalassotherapy centers, marine spas).
The Aquatonic ® Pool is an original concept that attracts a wide range of customers, from young people to seniors, and perfectly integrates with:

hotels
well-being centers (thalasso centers, spa, etc..)
luxury residences, fitness centers, etc..
Configuration
Each Aquatonic ® pool is designed specifically for each site and particular attention is paid to its integration within the local area, architecture and environment.
The course offers a number of varied water zones on a pool area of 140m² to over 600m². Average pool area is 350m².
The benefits of the Aquatonic® pool
Physical relaxation, sense of well-being, relaxes muscle tension.
Mental relaxation and sense of inner balance, you give yourself time to relax and escape routine.
Impression of lightness and joint relief due to water pressure
Invigorating effect of warm water, relaxing effect from hot water
Stimulates the senses
Pain relief through pressure and friction
Improved blood circulation due to hydrostatic pressure and the draining and massaging effects of the jets
Local stimulation of the metabolism
Stimulation of the immune system
The Aquatonic ® Pool is a great moment of fun and relaxation.
Competitive Advantage
It contributes to the high-end positioning of an establishment in which it is integrated and differentiates it from competition.
Original, perfect for a world where the demand for well-being and relaxation is on the increase
Different from other spa offers (new experience, high-end, significant visual effect, innovative)
You benefit from the strong "Aquatonic ®" brand located in some of the most beautiful spas in France and the world.

 In France, our reputation is based on Thermes Marins de Saint-Malo, Aquatonic® Spa Rennes St-Grégoire and Paris Val d'Europe: customers = more than 100,000 customers per year in France.
At an international level, the pool has gained clients on five continents with 7 Aquatonic® pools built to date = More than 200 000 clients per year worldwide.

This reputation is supported by plenty of communication and press relations by the group and its partners in France and abroad.
Hotels: increasing the attractiveness of the hotel improves its occupancy rate.
It is suitable for customers of all ages, or almost ("7-77 years old"):

Young Customers: in search of well-being (day spa experience), tone (pool)
Senior Customers: baby boomers
Different types of customers:
Tourists
Locals or Visiting
Vouchers
Business or seminar
Event-driven, with the possibility using the pool for private functions
Athletes
It completes the offer for individual treatments through relaxation in water and makes your offer more original compared to the competition. It is the perfect complement to a spa: Sana Per Aqua (health from water): SPA.