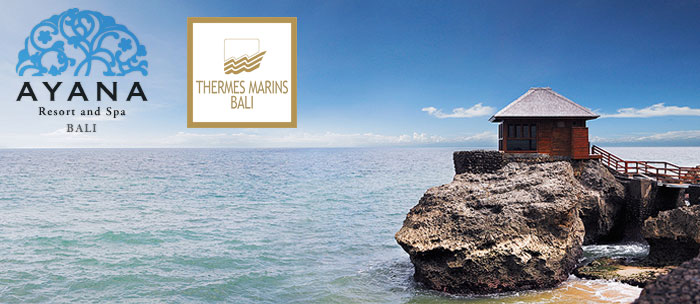 The Resort
Majestic Ocean Viwes and Unrivaled Serice at this Cliff-top Bali Luxury Hotel.
Designed to ensure maximum seclusion for every guest, AYANA's 78 free-standing, cliff-top luxury villas are set in traditional Balinese compounds with private pools surrounded by tropical gardens. You will feel like the only people on earth. If you do decide to venture out, our villa guests enjoy convenient access to all hotel facilities, including the Thermes Marins Bali Spa, restaurants, cafes and lounges, and white-sand beach.
Location
Named after 'a place of refuge for the gods' in Sanskrit, AYANA is perched on limestone cliffs above Jimbaran Bay. Enjoying majestic views across the Indian Ocean and Bali's south-west coast, its secluded location is complemented by its own white-sand beach, yet it is just 15 minutes from Bali's airport, making it the perfect base for exploring the island's many other wonders.
Nearby attractions
Jimbaran Bay fish markets (10 minutes)
Pura Luhur Uluwatu, one of Bali's most sacred temples (20 minutes)
Championship golf courses (20 minutes)
Seminyak's shopping and nightlife (30 minutes)
Ubud's galleries, monkey forest and rice fields (90 minutes)
Distance to airport: 10 kilometers (6.2 miles)
Opening date: 29 November, 1996 (as The Ritz- Carlton Bali, Resort & Spa)
Informations
Ownership:
PT Karang Mas Sejahtera, Jakarta, Indonesia

Management :
West Paces Hotel Group, Atlanta, Georgia, USA

Size of property:
77 hectares

Length of coastline :
1.3 kilometers (0.8 miles)

Architect :
Wimberly, Allison, Tong & Goo, California, USA
Le Spa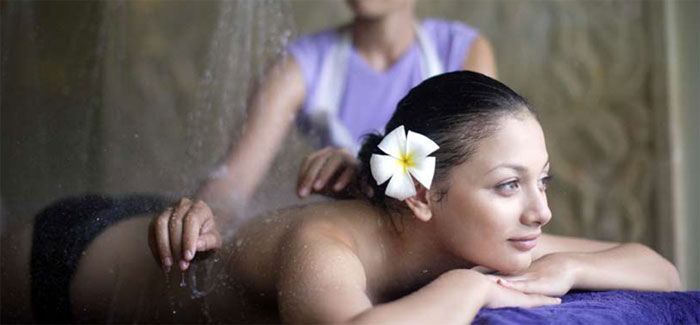 Set in beautifully landscaped tropical gardens, Thermes Marins Bali is the only Thermes Marins spa in south-east Asia. The extensive facility incorporates spa villas, treatment rooms, beauty salon, reflexology and relaxation lounge, steam and sauna rooms and the world's largest Aquatonic® Seawater Jet Pool. The most exclusive venue for an indulgent wellbeing experience is Spa on the Rocks, consisting of two treatment villas anchored on natural rocks amidst the Indian Ocean. The spa complex also encompasses an 18-hole golf putting course, three floodlit tennis courts, bubble bath Grotto, cold plunge pool, gym, spa boutique, Spa Café and Honzen Japanese restaurant.
Facts and Figures
Size of Spa Complex: 22,000 square meters (236,000 square feet
Size of Aquatonic® pool: 650 square meters, with a depth of 1.3 meters
Capacity of Aquatonic® pool: 700,000,000 liters (153,980,000 gallons)
Interior Designer: P49 Design Woodhead, Bangkok, Thailand
Thalasso Consultant: Thermes Marins, St. Malo, France
Total number of spa rooms:
40
Treatment rooms: 26
Thalasso therapy rooms: 4
Hydro-jet rooms: 1
Spa suites: 1
Spa villas (double): 6
Spa On The Rocks villas: 2
Spa on the rocks
Perched on natural rocks just below the resort's towering cliff face are two luxuriously-appointed spa villas with panoramic views of the Indian Ocean. The Spa on the Rocks villas are accessible via stairs and a bridged walkway. Treatments at the Rocks use the world's most exclusive products and are limited to only six couples daily. Guests may like to extend their time at this unique location with a five-course butler-served Dinner on the Rocks after their treatments.
Thalasso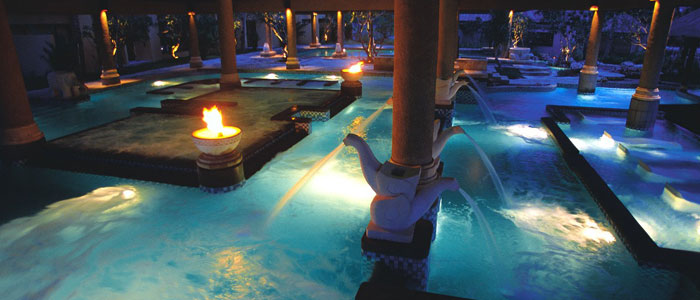 One of the world's largest Aquatonic® pools is directly supplied from the underlying Indian Ocean and warmed to optimum temperatures to provide the curative and preventative properties of seawater. Hydrostatic pressure allows effortless exercise through 12 hydro massage stations via the pool's therapeutic jet streams, micro-bubbles and geysers. In addition, the Thalassotherapy treatment rooms feature the latest Thalasso equipment, including seawater circulatory showers and affusion showers.
Treatments
The extensive spa menu offers a combination of ancient Eastern healing therapies and modern European treatments, including Thalassotherapy, body massage, beauty treatments, facials, hair, nail care, anti-aging and slimming treatments. The products used, including Thermes Marins Saint-Malo
Beauty Salon
Overlooking lush gardens and the 18-hole golf putting course, the beauty salon offers hair treatments, make-up services, manicure, pedicure, and advanced gel and acrylic nail system treatments.
Spa café
The café serves low calorie healthy spa cuisine, fresh organic salads, sandwiches, fruits, yoghurt, fresh vegetable and fruit juices plus a range of aromatic teas in an air-conditioned indoor or outdoor garden setting.
Spa Awards
2010 Conde Nast Traveller Readers' Spa Awards – #1 Spa In The World
Best Spa Destination in Indonesia – Asia Spa Gold Awards 2009
# 3 Best Spa Hotels & Resorts in Asia – Smart Travel Asia 'Best in Travel' poll 2009
Best Signature Treatments & Most Scenic Spa (Spa on the Rocks) – Spa Asia Crystal Awards 2005
No. 1 Best Spa for Treatments – Travel + Leisure Magazine 2003
Best Spa in Asia – CNN Worldwide 2003